November 3, 2017
By Jason Bolton, Psy.D.
VP of Programs, The Help Group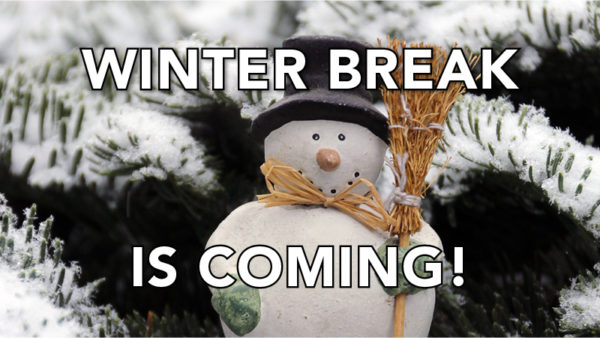 Yes, winter [break] is coming, which means no school for two to three weeks for a lot of students. Are you concerned about how you'll keep your child busy?
Children are accustomed to the structured routine of school. As a parent of elementary school-aged triplets who have faced their own neuro-developmental challenges, I value the importance of routine and predictability. When the calendar flips to November with Halloween's issues now in the rear-view, my wife and I start to think about winter break and how we will strike the balance of keeping our girls busy while still providing the restful benefit of a break from the demands of school. Based on personal and professional experience, here are a few tips that I have found helpful for children of all abilities during this time of year:
Make a list of things that your child likes to do and let him/her choose from those activities each day. While it's a great idea to include educational or interactive activities like puzzles, building LEGOS or playing music, it's ok to include some more passive activities like TV, video games or computer time. When your child has choices, it gives them an opportunity to feel in control, and lessens the chance of challenging behavioral issues. (source: Psychology Today)
Meet Santa Claus! Given that it's the holidays, it may be inevitable that you'll have your children in tow and have some shopping to do. Did you know that some Toys 'R' Us and Targets offer sensory-friendly shopping hours? There are even some shopping malls that provide sensory-friendly, special Santa programs for children with special needs and their families to enjoy a photo session with Santa. You'll need to sign up early though! For more information, visit Caring Santa, Santa Cares, and Sensitive Santa.
Go see a sensory-friendly movie at AMC theatres. Winter break is a great time to take children to see a movie. AMC offers special movie showings where they turn the lights up and the sound down. Kids can get up, dance, walk, shout or sing. Their family-friendly and sensory-friendly film program is available on the second and fourth Saturday of every month. Check your local listings for specifics. If going to the movies is not your thing, then check out Common Sense Media's list of best winter break movies for kids to watch at home.
Check out popular, local destinations. In LA, we have a lot of kid-friendly places, such as Discovery Cube, Kidspace Children Museum, The Skirball's Noah's Ark, and Rock the Spectrum. The key is to arrive early or visit during off-peak hours. If you call ahead, some of these places can make special accommodations. For example, Noah's Ark, lends out a sensory backpack for your child to use inside of Noah's Ark, which includes noise dampening headphones, fidgets, puzzles, etc.
Use Social Stories. Winter break provides many opportunities to visit family, have friends over for dinner, or attend parties. As we all know, these can be fun and challenging experiences for children. Social Stories are short descriptions of a particular situation, event or activity, which include specific information about what a child can expect in a situation and why. They can help reduce anxiety of the novel situation and enhance the joy for all involved. For more on social stories, visit carolgraysocialstories.com. For an example of stories relevant to winter break, go to www.iroqsea.org/social-stories for younger children, and for more mature children, visit www.positivelyautism.com/downloads/ChristmasArticle_VisitingFamily.pdf.
Sign up your children for winter break day camp (Dec 18 – 22, 2017). Let's face it – even with these great ideas in your bag of tricks, two or three weeks of vacation time with your kids at home can seem like an ETERNITY. At The Help Group in Los Angeles, Kids Like Me offers Winter Break day camps for children, teens and young adults (ages 3 -22) with autism spectrum disorder and other special needs which can add plenty of structure, predictability, and fun to your child's break. For more information, visit www.kidslikemela.org/winter_camp.
Being with family and friends is what the holidays are all about. As kids, we have our own favorite memories. The most important thing to remember is to let your children have fun. It's about creating positive emotional memories. All kids need love, play, and parents who encourage them to do their best. Structure and preparation without losing focus on the beauty of a break from demand can help produce those everlasting memories. Ask yourself, what would you like your children to remember about the holidays?
Jason Bolton, Psy.D., is a licensed clinical psychologist. He is a writer, speaker, and the VP of Programs at The Help Group, which is the largest, most innovative and comprehensive nonprofit of its kind in the United States serving children, adolescents and young adults with special needs related to autism spectrum disorder, learning disabilities, ADHD, developmental delays, abuse and emotional challenges. For further information, email

[email protected]

.