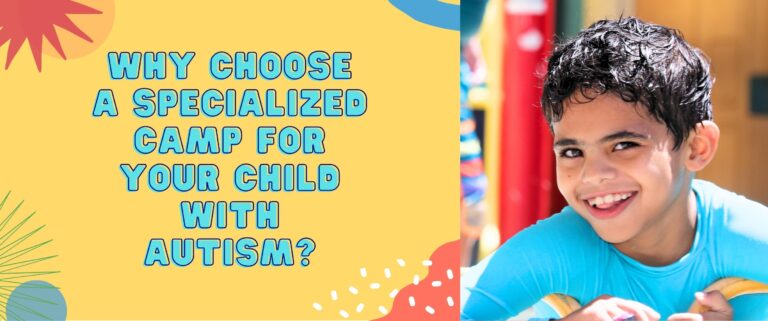 Summer camp: a place to have fun, enjoy recreation, sports, arts and crafts, and make new friends. But for children with autism and other developmental challenges, the prospect of attending camp may be daunting. That's why we at The Help Group's Kid's Like Me have created specialized camps for children and teens with autism spectrum disorder and other neurodevelopmental challenges where campers can enjoy a sense of belonging.
But why choose a specialized camp?
Laurie Stephens, the Senior Director of Autism and Clinical Services at The Help Group, says, "If you have a child with a math disability, you wouldn't want to put them in an advanced math class. So, when you have a child with social challenges, wouldn't you want to make their experience with socializing more comfortable and tailored to their needs?"
Stephens has provided individual and family therapy to autistic individuals for 30 years and, throughout her career, has designed camps and schools for children with neurodivergence. In discussing the reason why specialized camps are beneficial to children with autism, she cited the "double empathy theory," which proposes that children with autism are better able to socialize with other children on the autism spectrum. In other words, when neurodiverse individuals are around other children who think and act like they do, their social interactions are more enjoyable.
Dianne Lotivio, the Program Director of Kids Like Me, says that at Kids Like Me's summer camps, counselors are focused on the whole person when it comes to their campers. They make sure to pay close attention to children's and teens' individualized needs to create activities that children love to do, but also create activities that build relationships and foster a sense of belonging.
Teens On The Go
This summer, Lotivio says, three different camps will be offered to children interested in taking advantage of summer fun. Teens On the Go allows 14–17-year-old campers with learning, attention, social, and/or sensory challenges to explore LA with other children—an experience that can spark friendships and lifelong relationships.
Village Glen Camp
Village Glen Camp is for children ages six to 16 with learning, language, attention, social, and sensory challenges and who do not require a lot of individualized support; the camper-to-counselor ratio is one staff member to five campers.  This camp focuses on building meaningful relationships through shared cooperative activities.   Children who attend this camp often end their experience with a new friend or two!
Camp Sunshine
Lastly, Camp Sunshine uses project-based experiences to help six to 16-year-olds with autism develop their unique strengths. Here, children and young adults needing higher levels of support will work to develop important life skills and build confidence. The staff-to-camper ratio is one to three.
Each of our counselors is a school employee who works as a TA (teacher's assistant), therapist, BCBA (Board Certified Behavior Analyst), or in BII services (Behavior Intervention Implementation.) Counselors are trained in a variety of techniques and ideologies that support and encourage positive behavior and socialization among campers.
As Dr. Stephens pointed out, the double empathy theory holds that children and young adults should feel comfortable making memories while surrounded by those who think like them and understand them. With a variety of options for summer camps that cater to children with autism spectrum disorder and other neurodevelopmental challenges, Kids Like Me is excited to offer specialized camps where children and young adults can connect and build their confidence… all while enjoying the summer sun!
To learn more about Kids Like Me's Summer Camps, please visit: kidslikemela.org/camps.